2022 Taiwan Trans March - Turn on the Light, March for Trans Rights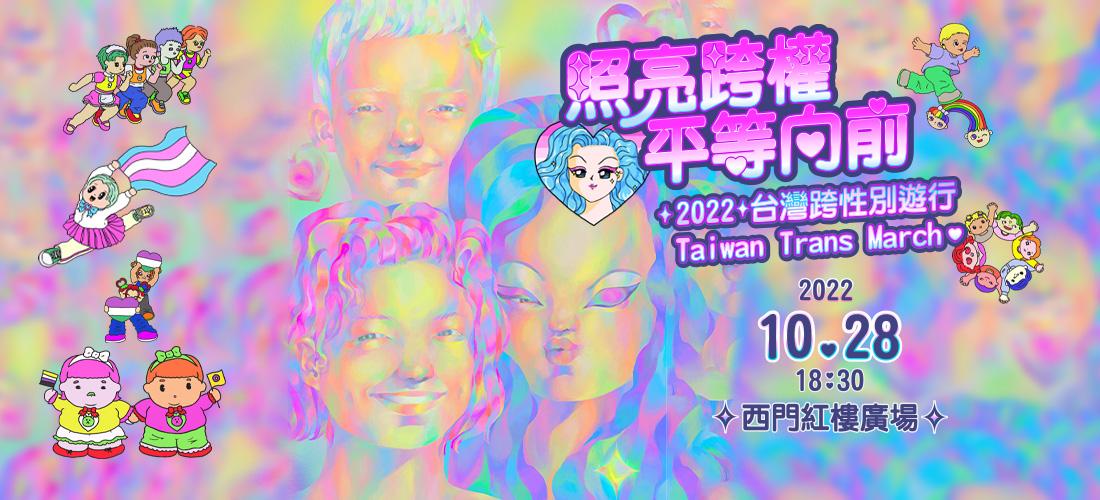 Date: Friday, October 28th, 2022
Location: The Red House Square (near Exit 1, MRT Ximen Station)
Event Timetable:
18:30 Rounding up
18:55 Starting the first half of the program
19:30 Launching the march
20:50 Second half of the program
Group registration: https://reurl.cc/3Y0EDj Individual participants are not required to sign up in advance.
Organizer: Taiwan Tongzhi (LGBTQ+) Hotline Association
This year, we are celebrating the 4th annual Taiwan Trans March. In recent years, although the visibility and awareness of transgender-related issues have increased, in the Taiwanese society, a conventional gender binary framework and the corresponding structural design of all kinds often overlook transgender people's existence and their needs. As a result, many transgender individuals face difficulties in their everyday life, workplace, and healthcare institutions, and they often have to suffer in silence, dealing with their struggles and pain alone. This is indeed a reminder for all of us that, our society still lacks understandings of transgender-related issues.
Theme: Turn on the Light, March for Trans Rights
As in previous years, this years' Trans March again takes place in the night, which symbolizes how transgender people are a lonely minority group that has to walk in the dark alone while waiting for a friendly light that can illuminate their surroundings. Each year, we look forward to more people joining us in the march, becoming aware of transgender people's living situation, and being a source of supports that lights up the night sky. Let us become partners on this journey and create together a more diverse, free and open Taiwan.   
What transgender people face
Individuals who identify themselves as transgender often face more difficulties than others. For example, even when a transgender male already has an appearance of a man, he may still be requested or even forced to continue to use a women's bathroom because his legal identity is still female, which could be troublesome for himself and other bathroom users at the same time. In addition to not being able to choose which bathroom to use freely, there are many other issues in their everyday life that make transgender individuals live in constant fear and worry about others' different and unfriendly perception and treatment, such as differences in male and female attires and misgendering.   
In workplace, transgender individuals often encounter gossips about their appearance when looking for a job, or even lose their job, because how they look does not align with the gender registered on their person ID card. When they do find a job, they may feel ill at ease due to the binary gender options for forms, public bathrooms, and their titles. They may even have to obey the company's rule of choosing their uniform based on their legal gender identity, and therefore, must wear a female uniform as a male (and vice versa), which creates an embarrassing situation both for them and for their customers. Creating a friendly workplace not only allows each employee to feel more comfortable and at ease, but also grants transgender people an opportunity to prove that they can be competent employees as well.     
In terms of healthcare, when transgender individuals visit a medical institution, they may be misgendered by healthcare professionals in public because the information on their national health insurance card does not align with their actual gender and appearance. For example, a male-looking transgender person may be referred to as "Miss," while a transgender female being called "Mr.". This situation is not only embarrassing for the transgender person, but also confusing for the caller. Although this may seem like a minor mistake to others, it could be a very personal issue that the transgender person has to face repeatedly. When transgender persons are constantly reminded of this conflict between their own identity and their legal identity, they are not only likely to develop negative emotions and severe anxiety, but their willingness to seek healthcare services may also be compromised. A friendly healthcare environment can be beneficial to increase the willingness of everyone, including transgender people, to seek medical assistance and to improve patient-physician relationships.      
Because of the many difficulties they face in everyday life, and the loneliness they experience as they can't share with anyone, transgender people are often overwhelmed by negative emotions like depression, but yet cannot talk to others about it. In fact, what many transgender people want is simply an ordinary life in which they can go by their days at ease without worrying about their identity. 
We wish someday, everyone in this society can live happily as themselves
This ordinary journey of being a transgender is hard and long. Fortunately, public attitudes are slowing changing, as now we are able to accept boys being gentle and sensitive, as well as to encourage girls to be tough and handsome. Bathroom design is no longer following the gender binary assumption, but aims to create a friendlier setup. Males and females no longer have to fulfill certain stereotypes to be truly males and females.
What we aim to pursue is for the society to see the diversity in gender, and to respect everyone's choice and decision. It is everyone's freedom how they wish to be addressed, and what kind of outfit they feel like wearing. Bathroom use does not have to be regulated by a stiff rule based on users' legal gender identity, but should reflect the reality, in the sense that everyone can use a bathroom in accordance with their own needs without disturbing others. Gender should not be a binary classification, but a broad and colorful spectrum.   
Regardless of one's sexual orientation and gender identity, each and every of us has more or less experiences of being limited by gender stereotypes and trying to breakthrough these limitations as we grow up and in our everyday life. In fact, this is also our own practice of "crossing gender." In this era where the value of diversity is gradually being seen and emphasized, we invite you to join Taiwan Trans March on Friday, October 28th, and to demonstrate in your own way what "crossing gender" means to you. Let us march together on the road to equality.