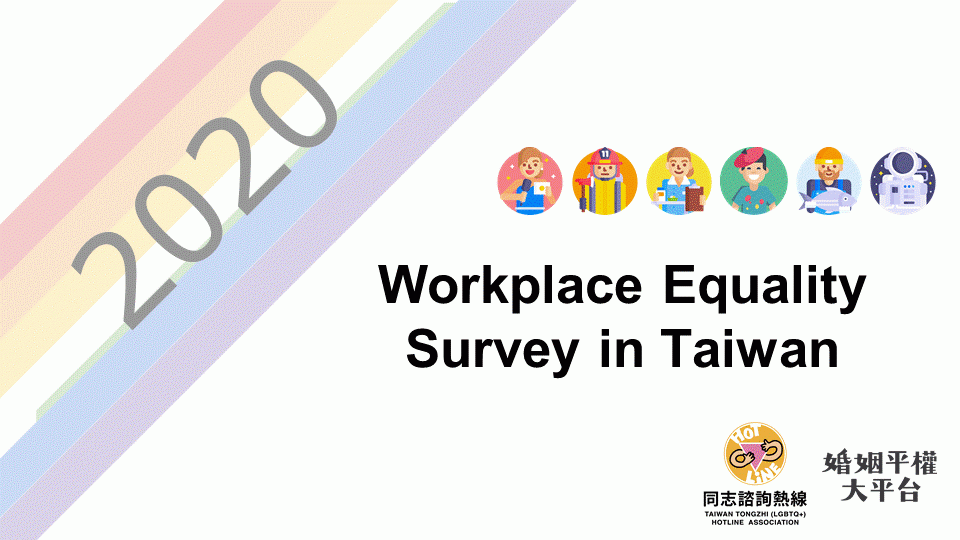 In 2016, Taiwan Tongzhi(LGBTQ+) Hotline Association (Hotline) conducted Taiwan's first LGBTQ+ Workplace Equality Survey. In 2019, Hotline and Marriage Equality Coalition Taiwan (MEC) co-founded the Equality Taskforce for LGBTQ+- Friendly Workplaces, aiming to promote workplaces friendly towards diverse gender identities. Hotline and MEC conducted the second survey investigating the workplace experiences of LGBTQ+ individuals in Taiwan in January, 2020, and successfully recruited 2,121 respondents within 43 days, among which 781 answered the open-ended questions and actively expressed their opinions, which shows how the LGBTQ+ community values workplace-related issues. We hope that results presented in this survey would shed a light on issues regarding LGBTQ+-friendly workplaces and raise more discussions.      
Positive impacts brought by the special law for same-sex marriage
In recent years, progresses in the marriage equality movement has made LGBTQ+-related issues more visible in the Taiwanese society and increased the sense of self-identification within the LGBTQ+ community. Several significant changes found by this survey echo the aforementioned observations:
1. There is a significant increase in the percentage of respondents who state that "there are openly-LGBTQ+ employees in my workplace." (27.3% → 38.1%)
2. 4 years ago, most respondents considered that there were still many unequal treatments in terms of benefits between LGBTQ+ and heterosexual employees. "The workplace is unfriendly towards LGBTQ+" was the issue most people cared about. Since the special law for same-sex marriage was passed in Taiwan, most LGBTQ+ employees have noticed a significant increase in their need for social activities within the community, as well as a higher expectation for community networking.
3. Respondents also report more positive interactions with co-workers and supervisors compared with 4 years ago, and they are less likely to be asked about their relationship status as well as having to pretend to be straight.     
Coming-out in workplace
Although more than half of the respondents believe that it is important to be able to come out in workplace, compared with 2016, the overall percentage of LGBTQ+ individuals who has come out has not made significant progresses. 55% of the respondents have come out to some co-workers in their workplace, but fewer than 30% have come out to supervisors or individuals who rank above them. In addition, 10% of the respondents still have not come out to any family member, friend, co-worker and supervisor. This percentage is the same as 4 years ago.
While their position and seniority may affect the willingness of LGBTQ+ individuals to come out, nearly 50% of the respondents choose not to come out in their workplace due to worries about how coming out could affect the interpersonal relationships in workplace, as nearly 40% of them are concerned that it could affect their promotion and carrier development, and another 35% worry that they may be bullied or picked on in workplace.
In terms of types of occupations, individuals working in the gastronomy and art industry or as freelancers feel more comfortable about coming out to co-workers, compared with other industries.  
Meanwhile, relatively few respondents working as civil servants, in the educational and finance industry feel comfortable about coming out to co-workers, despite that they consider being able to come out in workplace very important. Most of them need to conceal their identity.    
What is particularly attention-catching is that, LGBTQ+ individuals working in the service, gastronomy and art industry account for more than one-fourth of the total respondents in this survey. These are also the industries that have been under greater influences due to the COVID-19 pandemic. So far government authorities have introduced many relief measures, and we would like to remind LGBTQ+ individuals to make use of such governmental resources to go through this difficult time.   
Reviewing friendly workplaces
Looking at the structural aspects of workplaces, although there have been more discussions about LGBTQ+ issues and institutional improvements have been made to the laws in recent years, there have been unfortunately limited progresses made to creating friendlier workplaces. More than 50% of the respondents report that their companies do not put in place any measures targeting at LGBTQ+ employees or gender friendliness (including LGBTQ+-friendly statements, policies and educational or training programs). Moreover, the survey also shows that most companies that are capable of providing gender-friendly policies and training programs are larger companies with more than 500 employees.
With regards to the legal aspect, three-fourth of the respondents are aware that, the existing "Employment Service Act" and "Act of Gender Equality in Employment" protect individuals from receiving unequal treatments based on their sexual orientations and gender expressions. However, 30% of them are not clear about the reporting mechanism available in their company, and nearly one-fourth of the respondents do not trust existing channels. When unfriendly encounters did occur in workplace, nearly 60% of the respondents say that they settled without any concrete result in the end. 
Key to realizing friendly environments with legal regulations
While laws protecting workplace rights do exist in Taiwan, and Taiwan is the first Asian country where all individuals are entitled to get married, many LGBTQ+ individuals still conceal their identity in workplace, and are not able to share with others their personal life and relationship like their heterosexual co-workers. In order for the good-willed laws mentioned above to truly have their effects, the first step could be organizing LGBTQ+- and gender-friendly courses, lectures, and training programs within individual companies. This is also the expectation of more than 70% of the respondents. More wishes of the LGBTQ+ employees can be found in the attachment.  
Creating a friendly environment not only requires the efforts of businesses and employers, but the central government and local labor authorities are also expected to include issues related to friendly workplaces for individuals of diverse genders into the labor training courses. We also suggest the government should provide more resources for small-scale businesses. This survey shows that, it is more difficult for LGBTQ+ civil servants to come out than LGBTQ+ individuals working in other industries. We expect that government agencies to take the first step in offering more diverse educational and training programs targeting at gender equality, to see the contributions made by LGBTQ+ employees to their workplace, and to become the best example of a friendly workplace. Workplaces are an epitome of the larger society. When LGBTQ+ individuals feel more and more comfortable in their workplace, it also means that the society is becoming friendlier. In 2019, Hotline and MEC published the "Guides for a LGBTQ+-Friendly Workplace," in which training programs are also introduced. Businesses and companies interested in promoting a workplace friendly towards diverse genders should feel free to take a look. 
Click the photo below to see the infographics of the survey.