Original Websire: http://www.taipeitimes.com/News/front/archives/2013/12/01/2003578041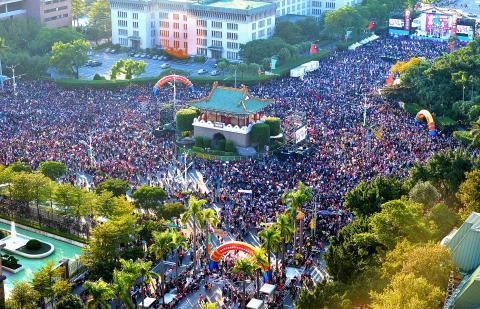 People opposed to same-sex marriage gather on Ketagalan Boulevard in Taipei yesterday.
Dec 01, 2013
Photo: Chien Jung-fong, Taipei Times
Report By Loa Iok-sin  /  Staff reporter
Tens of thousands of people rallied on Ketagalan Boulevard in front of the Presidential Office in Taipei yesterday, voicing opposition to legalizing same-sex marriage, saying that such a move could lead the country into chaos.
Holding up signs that read "no to revising Article 972 of the Civil Code" and "defending marriage," opponents to legalizing same-sex marriage shouted slogans against the proposal to change the term "man and woman" to "two parties" in the article concerning marriage and the term "father and mother" to "parents" in the Civil Code.
The Coalition for the Happiness of Our Next Generation, one of the organizers of the event, says that allowing same-sex couples to marry and adopt children would encourage "sexual liberation," undermine traditional family values and confuse gender roles for children.
Most people, including politicians, participating in the demonstration said that they did not discriminate against gays, but said they could not accept same-sex unions as a valid form of marriage.
"We are not against homosexuality, we also have friends and relatives who are gay, we respect their sexual orientation, but we are opposed to their appeal to change a millenia-year-old tradition," Chinese Nationalist Party (KMT) Legislator Lai Shyh-bao (賴士葆) told the crowd. "We have to stand up to say 'no' to defend family values, for this policy may have a very serious negative impact on our population and education for our children."
KMT Legislator Ting Shou-chung (丁守中) also said that he respects gay people, and would support separate legislation to protect their rights, but "the family of a man and a woman is an important force for social stability, and should not be altered."
Others were less tolerant.
"God loves people, but He doesn't love sinners," demonstrator Hsu Chu-min (徐竹民) said. "Homosexuals should abandon their sin. Homosexuality is against human nature."
A high-school student who wished to be known as Nelson took part in the rally in a Nazi uniform.
"I am against homosexuality, and so were the Nazis; this is why I am wearing this uniform," he said. "I don't care if others criticize me, because those who criticize me will be condemned as well."
As many speakers at the rally accused gay rights activists of trying to push for sexual liberation, incest, group sex and bestiality through legalizing same-sex marriage and family diversity proposals, several gay rights advocacy groups tried to hold a press conference to clarify their stance.
However, many activists were circled, pushed and driven away when they passed through the crowd of demonstrators.
"The demonstrators say they want to save their wives and children by opposing legalizing same-sex marriage. Well, I want to save my family too," said Taiwan LGBT Family Advocacy vice president Yu Ya-ting (游雅婷), who was married to her wife, Huang Mei-yu (黃美瑜), by Buddhist master Shih Chao-hui (釋昭慧) at a Buddhist monastery in Taoyuan County. "We pay taxes and fulfill all the duties required of citizens of this country, so why can't we enjoy the same protection for our marriage?"
Yu said she and her wife would like to have a baby too, "but since the law does not recognize our marriage, Mei-yu would be only a stranger to our child if I gave birth to a child and passed away."
Yu said that opponents to same-sex marriage accuse them of undermining marriage, but "didn't we get married, and want the marriage to be recognized by law because we are committed to the institution of marriage?"
 
Hsu Po-jen (許博任) and Chiu Yi-chun (邱宜君), a Christian heterosexual couple, appeared to show their support for same-sex marriage.
Saying that he supports equal rights for all citizens, and that the Bible teaches Christians to "love your neighbors as yourself," Hsu Po-jen said he could not agree with discriminatory remarks made by other Christians at the rally against same-sex marriage.
"My brothers and sisters, please go home and pray, and think about it," Hsu said. "Is what you are doing the love that God teaches us?"